I can't believe it's been almost a year. A year full of adventure, but also absolutely full of turmoil, heartache and loss. Through it all, I've had my friends, steadfast and dependable, always ready to head out for an adventure, or to head in for commiseration over a pot of coffee.
Tallulah Gorge was our first State Park in the Park Project – before Jeeptographer was even an idea in my mind. It's taken me forever to swing back around to edit those photos and drop them in the blog, but the memories were sweet! We've often laughed about that trip to Tallulah, in which we judged ourselves far more fit than reality deemed, but we enjoyed it all-the-same. We've gotten some new gear, learned some good tips for future endeavors, and deepened our love the Georgia State Park system. Magnus has gotten lots of upgrades! I feel like we need to make another trip to Tallulah again in the spring, to experience it in a new season, pick up those elusive enamel pins, and compare our general athleticism against our benchmark ?
You begin your hike into Tallulah Gorge in the visitor center. If you plan on hiking 'the floor', as we did, you have a short orientation to sit through before being issued a floor permit (only 100 permits are issued each day, and sometimes none at all due to weather or water release schedules from the dam). This permit will allow you to explore further into the gorge than beyond the suspension bridge, which is something that I would encourage for the full Tallulah experience.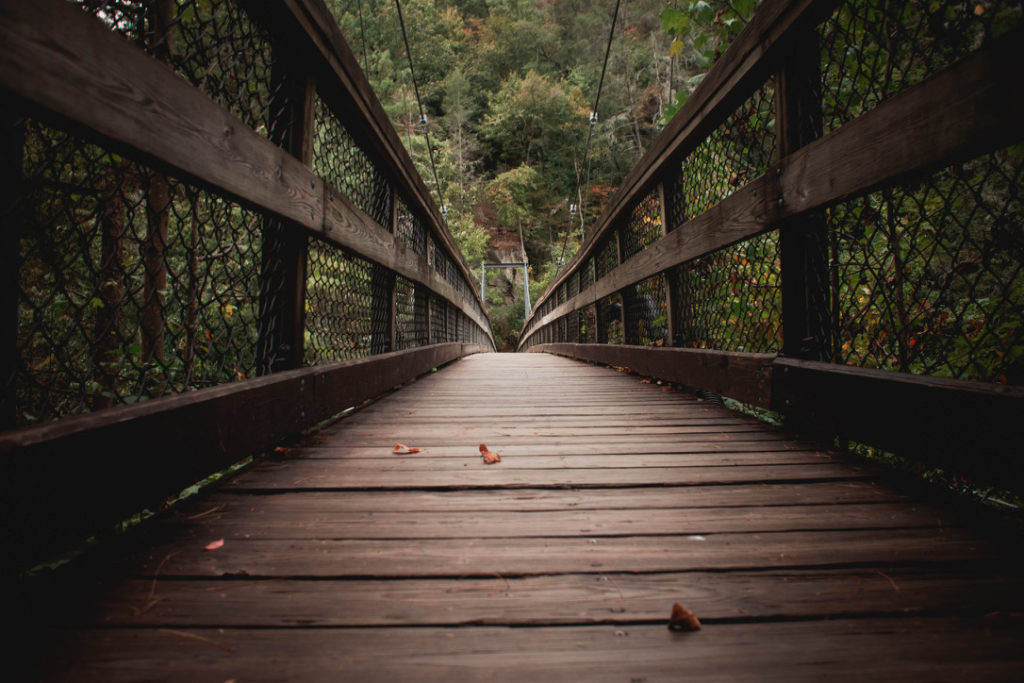 The Suspension Bridge is one of the most beloved features of Tallulah Gorge, hanging 90 feet over the rocks, allowing a breathtaking view of the river and waterfalls. It bounces and sways as visitors move across it, so it might be a little un-nerving for someone with a fear of heights or bridges, but we all found our way across it without incident, even those in our group who were more uncertain of it. With chain link sides reinforced by wooden planks, it feels very stable and enclosed.
After crossing the suspension bridge, you are reminded that what goes down must come up. There are about 1000 stairs to climb from the floor back to the rim again, this time putting you on the southern rim. From there, we decided that we weren't done with our self-punishment, and set out for 'Sliding Rock Trail'.
'Trail' is a pretty loose interpretation for what we found, which was mostly scrambling down giant boulders, something that not everyone in our party was all that comfortable with (at first) but that we proudly all completed. We took our time going down, everyone choosing their own line and path.
When forced to slow down and catch our breath, we also found beauty tucked into the woodline at the edges of the tumbling rocks. These autumnal blooms are some of my favorites – I seem to forget, every single year, that there are many flowers that boom in autumn, and each year I am caught by delighted surprise on my hikes. This year is no different than last, and each time I review my photos I am delighted that my apparent amnesia builds a delightful surprise into every new season.
We finally reached the bottom, and spread our gear out on a beautiful rock, basking in the sun and watching other visitors enjoy the "sliding rock" that awaits at the bottom of the trail. It seems that most people take Gorge Floor Trail and then cross the river before then taking Sliding Rock Trail back up – we opted to take Sliding Rock out and back, to avoid having to deal with a water crossing.
We stayed down at the Sliding Rock for an hour or more. The weather was perfect, and we were enjoying comraderie and snacks, while also dreading the steep trek back up ? I found the trip up to be a little bit easier, maybe because I had some context of how far it was, or maybe just because I find it easier to control my ascent instead of a steep descent.
Once we rejoined the top of the trail, we bypassed the stairs back down into the Gorge to the Suspension Bridge, and hiked across the dam instead – this is a less scenic route because of the automobile traffic nearby, but it does offer a beautiful view of the Gorge from the roadway without having to "feel the burn".
All in all, this was absolutely one of my favorite trips, in no small part because of the companionship.
We opted to take our recent calorie burns to a local mexican restaurant (Manriques) to eat our weight in Nachos and cheese <3 It did not disappoint (though Im not actually certain I've ever been disappointed with a tex-mex meal). I definitely will hit it up again on my next trip through Clayton.
Teri and I bid farewell to Kim and Julie and then we headed out for our second destination – a local coffee shop named White Birch Provisions that has become one of our favorites. I had (and have had many times since) the Superbee Latte which includes bee pollen and honey to make a deliciously creamy and indulgent drink. Many of our adventures into the mountains bring us through Clayton, which is a main thoroughfare to the smokies, and we stop every time we have a few minutes to fare.